Bob has several other music projects in the planning and some offers also.
Celtic Horizon Band includes Neil from Beggars Row and performs around Europe.
A Scottish theme show is in the process of just having started. Bob sings the lead and MC's in much of the show. The show is aimed at the corporate market in Scotland. Already it has performed in a Scottish Castle.
As well as Bob's solo acts. Bob has always wanted to tour with a support band for his own songs. He is actively writing, recording and producing the music for this dream. He hopes to have the Bob Ferguson Band and show on the road sometime in 2018/19.
In Netherlands Bob performs in THE BOBBAS duo.  See their page for this lively and crazy duo. In addition to this duo is a trio project aimed at folk clubs and festival. The trio is WHISPERS IN THE WIND
In Scotland Bob performs in the SCOTTISH CORPORATE ENTERTAINMENT BAND. They perform concerts and ceilidhs at corporate events
In early 2023 it is hope to re-unite The CELTIC HEARTS BAND more information will follow.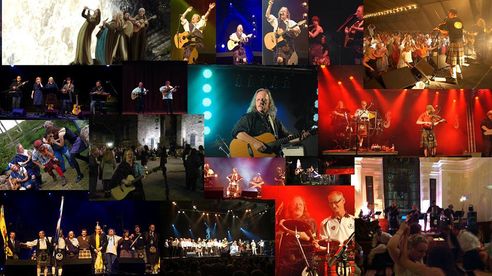 Bob Ferguson private wedding concert
Bob performing folk/trad music for wedding party
Insured for Public Liability of £10million